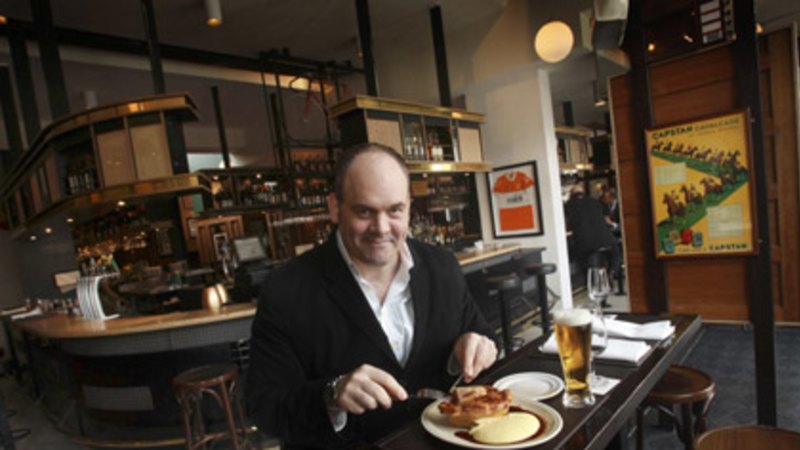 Professional Excellence Award winner Paul Wilson
In that time, he has worked in some of Melbourne's highest-profile restaurants, garnered a small swag of awards —including chef of the year in 2002 for his stint at the Park Hyatt's Radii, and restaurant of the year in 2004, for South Yarra's Botanical — lodged his poached egg with truffled polenta dish in the top-10 lists of countless diners, represented Melbourne at overseas showcases and brought a big-flavoured, ingredient-focused style to the table that has influenced how chefs cook and diners eat.
In his latest role as a consultant, his style and influence are even more far-reaching. But best of all, the modesty, humility and talent that have made the big man one of the most genuinely liked and admired cooking talents in town have never deserted him. In a town such as Melbourne — always ready to move on to the next thing or become cynical about perceived overexposure — it could be one of the reasons for his success.
The brilliant, but ill-fated, folly of a revitalised Georges brought Wilson to town. He was on the books of Sir Terence Conran, heading the kitchens at London's Quaglino's, when he was tapped to come to Melbourne to work at the three Georges restaurants.
When that experiment failed, he popped up at Radii and turned one of the gaudiest dining rooms the city had seen into its hottest. It was there Melburnians first latched on to Wilson's style — classic dishes given a contemporary spin with big flavours and a mix of luxury and prosaic — the truffle and the egg — ingredients that matched the relaxed, but quality-conscious, dining style Melburnians had begun to embrace.
He consolidated this brand at Botanical but since leaving, when he ditched the restaurant chef role to become a consulting chef, his influence has become even more widespread and the impressive breadth of his repertoire more noticeable.
Just in the past year or so, Wilson has been involved with the Middle Park Hotel, the Albert Park Hotel, Undertaker, Match Bar & Grill and Gippsland's Archies on the Creek.
There's a certain style with all of his work but he has shown a dexterity and an intelligence in applying the right parts to the right places. His talent also seems to be in laying solid, rather than rigid, foundations.
After he moves on, the restaurants he has worked with are not stuck in a repeating faux-Wilson rut but take his classic contemporary basics and make them their own. It is as if they are "restaurants from the school of Paul Wilson", a sure sign of the master's professional excellence.